Food plate for the planet
Vegan Society of Canada News
Published February 17th 2022
Updated March 15th 2022
For far too long, we had to contend with food plate diagrams that encourage the exploitation of animals. The latest version of the food guide from our government is certainly progressing in the right direction, but as climate incidents have shown us too often, we no longer have the luxury of time.
Thanks to the work of many people over many months, we introduce the food plate for the planet suitable for vegans. Health-care workers and educators will finally have an option when it comes to food plates, and we hope they will choose one that avoids encouraging people to exploit animals.
The plate is the same as what is suggested in the food guide, except that instead of going with at least 88% of foods coming from plants we are of course going the full 100%.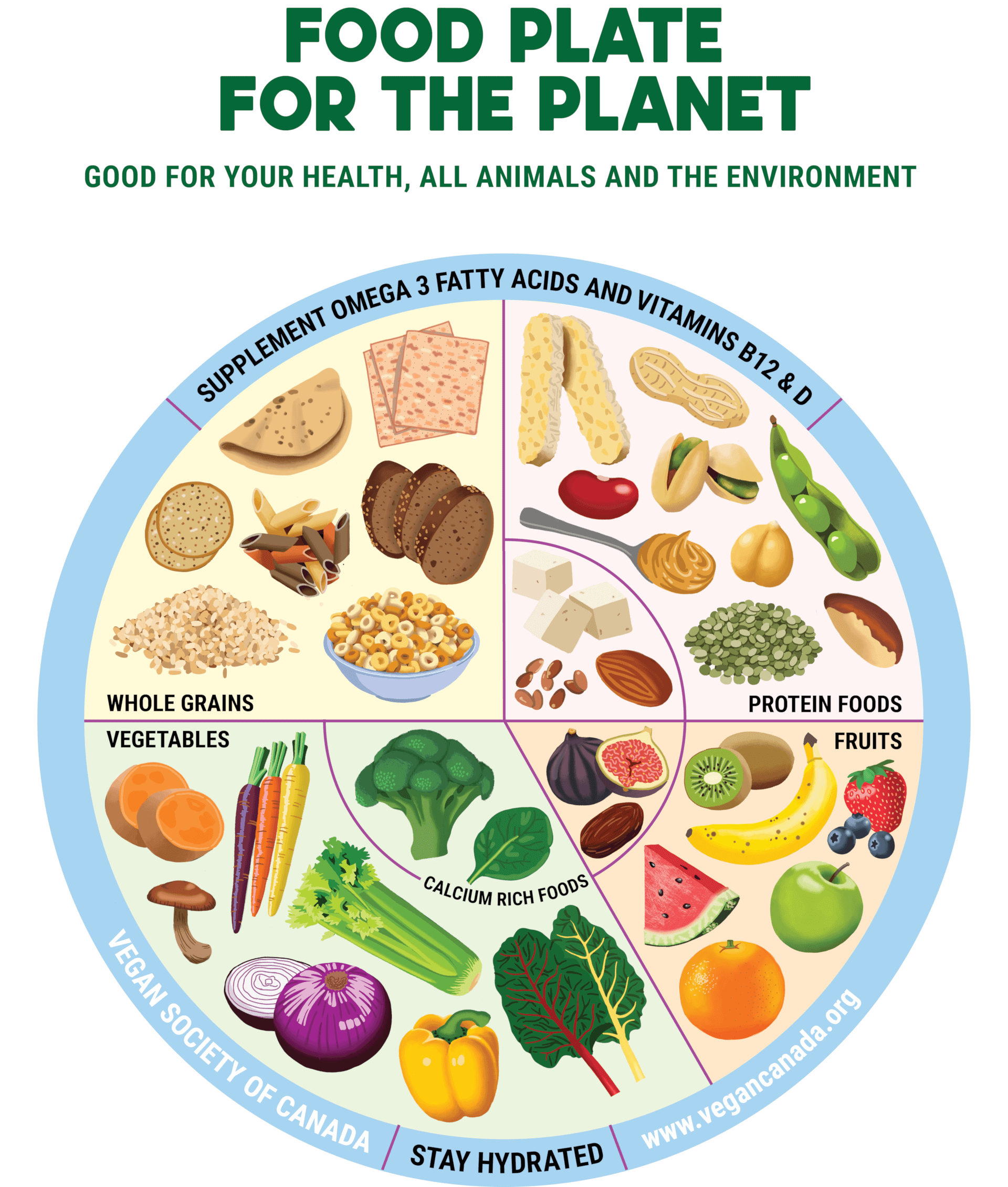 We have already discussed in detail both our B12 and calcium recommendations, which leaves omega-3 and vitamin D. We may discuss those in more detail in future articles, but since this plate is for everyone and vitamin D is mostly related to our geographical location and how much sun exposure we get, please research online for the optimal intake for your region. For people in northern climates like Canada, the scientific consensus seems to be between 1000-3000 IU per day.
The case for omega-3 is a little more complex and may warrant a separate article in the future, but research over the last few years has made the case clearer so we have included it in our food plate. We can easily get omega-3 in our diet from flaxseed, but recent research shows that our ability to process ALA from plant sources like flaxseed may decline with age. Some research indicates that it is more the ratio of omega-3 to omega-6 than the absolute intake of omega-3 that could be more important.
Since these recommendations apply to the general population, there are numerous published articles discussing optimal intake for various situations. It seems the scientific consensus is between 250mg and 500mg per day of EPA and DHA or equivalent in ALA sources.
Consider downloading this 18x24 poster in English or French, and feel free to post it at work. Please contact us if you need a custom size or version.